How to Fight Acne & Put Your Best Face Forward
Stryke Skin Tips
Here's the deal.
Guys have a lot going on. On top of school, sports, family, friends, and keeping up with the latest TikTok trends, your skin is going nuts—and before Stryke Club, skincare products haven't been made for guys. Not chill.
We're breaking down everything you need to know about your skin, giving you the confidence to put your most authentic self (and face) forward.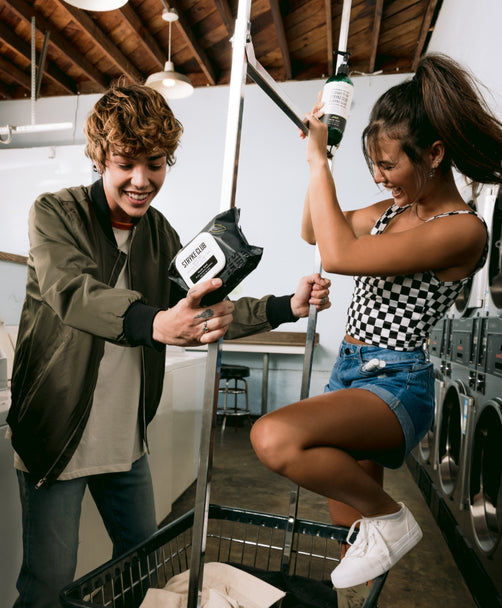 01
PUT YOUR SKIN FIRST
First things first: it's time to figure out what your skin really needs. Most teens have combination-type skin and are prone to breakouts on their face, chest, and back. Stryke Club uses gentle ingredients to create effective, acne-fighting formulas made to clear up pesky bumps and zits.  
02
SCIENCE-BACKED SOLUTIONS
Don't just grab just any product off the counter—do some research and look for brands that partner or consult with a dermatologist. You can trust Stryke Club for effective, science-backed skincare solutions made specifically for guys.
03
STICK TO IT
Skincare routines shouldn't be complicated. You don't need 10 steps—you've just gotta be consistent. Committing to using products for at least a month allows your skin to soak in all the good ingredients and gives you better results. Don't give up! You got this.
04
FEEL GOOD FACE FORWARD
You deserve to feel confident in your skin. We wantYou deserve to feel comfortable in your own skin. Stryke Club empowers guys to feel cool, confident, and seen for who they are by putting their best skin forward. everyone in the Stryke Club community to find the products that work best for them, so they don't have to spend time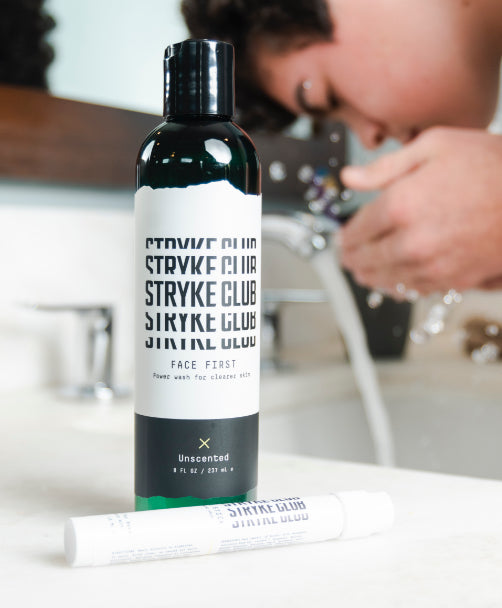 THE STRYKE GUY'S GUIDE TO SKINCARE
Got more questions? We've got answers.
Read more in our "Just The Facts" blog.
How is guys' skin different than girls' skin?
Hormones like testosterone affect oil glands and hair follicles, which means boys tend to get acne earlier (often with worse intensity and severity than girls). Guys also have more sebaceous glands overall, and their skin tends to be thicker and oilier because of this increased density. That's why Stryke Club products are uniquely formulated for guys' skin.
How does guys' skin evolve from teen years into adulthood?
Boys' puberty starts around age 10. At this time, the first surge of male hormones begin showing up (usually small blackheads or whiteheads surface on the forehead, ears, nose, and chin). 
As time goes on and hormones increase, they impact the hair follicle/sebaceous gland unit causing more oil, enlarging the oil glands, and giving a hospitable environment to the bacteria that inhabit those glands. In many teens, this can lead to red pimples and pustules, aka "inflammatory acne," aka zits.
As boys grow into young adults, the hormones start to even out, the skin adapts, and breakouts tend to be less severe.
Other factors common in teen years: Friction from athletic gear such as helmets, chin straps, etc. can add to the problem, especially since these items may collect dirt and bacteria.
If I only do one thing, what should it be?
Why shouldn't I squeeze or pick my pimples?
We know YouTube is filled with tons of pimple popping videos, but please try, try, try NOT to squeeze. Here's why: most of the inflammation causing the pimple is within a hair follicle under the skin surface. Squeezing can rupture it, leaking oozy bacteria into surrounding skin and making it LARGER and WORSE, and could actually lead to permanent scarring. If the acne bump has a whitehead, you may put a warm washcloth on it and gently apply pressure. While it's best not to squeeze, if you really can't stand it…try using a warm washcloth and BE GENTLE. Wash and treat with Stryke Stick Spot Treatment afterward.
What do I do about blackheads / whiteheads?
Blackheads and whiteheads are pores clogged with dirt, bacteria, and dead skin cells that appear enlarged. Treat them similarly to pimples: prevent by washing 2x a day with Stryke Club Face First. Our Calm Down Moisturizer has been clinically proven to reduce the occurrence of blackheads and whiteheads, so layer that into your routine for maximum benefit.
How does shaving affect acne?
Acne and shaving are closely related. The friction from a razor moving over hair follicles can create small cuts in the skin where bacteria can take hold and cause acne. Here's what to do about it:
Minimize trauma while shaving. This means choosing safer razors, shaving less frequently, or using an electric razor.
Don't use products that foam excessively—these can over-dry skin and make it more vulnerable to damage.
Fight bacteria—Stryke Club's specially formulated, acne-fighting Face First cleanser works to gently remove bacteria before and after shaving.
If you have thick or curly hair, your beard may be more prone to ingrown hairs, so it's extra important that you wash 2x a day (especially on days you shave).
Do things like stress, diet, and lack of sleep really cause breakouts?
Short answer: Yes. Stress makes everything worse and it can definitely impact acne. So minimizing stress is key—and that means getting adequate sleep. Diet has been shown to have a minor role in breakouts, but generally speaking, a healthy diet low in processed sugars (read: soda, candy, junk food) and limiting dairy consumption to 2-3 servings daily can help.
How do I know if I need to see a doctor for my acne?
If you have numerous, large inflamed pimples that won't go away, (even after washing your face twice a day with Stryke Club Face First) or you see signs of early scarring (those little pits or marks left behind after breakouts), it's probably time to see a licensed healthcare provider or dermatologist.
What can I do for dry skin?
Combination, dry, or irritated skin will benefit from regular use of a hypoallergenic, fragrance-free moisturizer. When applied immediately after cleansing (when a little bit of water is still on the skin), a moisturizer helps repair the skin by locking moisture in. 
Make sure your moisturizer doesn't clog pores (ie: non-comedogenic and non-acnegenic). Certain oils, including sunflower oils, are especially beneficial and proven to help restore the skin's barrier and maintain a healthy pH balance. Note—our Stryke Club Calm Down Moisturizer features all of these benefits and uses sunflower oils.